First up, thank you so much for the visits, the links, and the love. Really appreciate it. Definitely am lookin' for someone to correct me on the MTMTE "Seeds & Payoff" post. I will definitely make it a page in the next week or so.
I'm going to stop talking about that comic for a bit...wait, no, because the following links are me literally talking about the comic book some more. ROBOTS IN CAHOOTS is back! Eric (Til All Are Mine) went to Botcon and when he got back we talked all about the event, what was announced, and...oh wait, that was several months ago. Hey, I moved, and then I got a new sound editor and I am JUST getting the hang of it. I had nearly ZERO time since then and now to edit the conversation.
As a matter of fact,
ROBOTS IN CAHOOTS #5
and
ROBOTS IN CAHOOTS #6
are in fact from the same "blah blah blah" session that I decided to cut it down into two separate bits, for space reasons and...um, we promised to keep these podcasts short. #5 ends abruptly when Eric's son runs in, #6 is a little bit longer. I actually edited #5 a few weeks ago, and Eric posted it, I was just too busy obsessing over MTMTE among other things and when I decided to edit the 2nd half, I was able to use the sound editor a little better. So I guess we can record ANOTHER podcast soon.
OTHER NEWS! I picked up GDO Wheelie. Why? Because you know what, I hate G1 Wheelie. I hate it with a passion. So I'm replacing it with a larger version of Wheelie that won't fit with the scale of the other Classics, but I don't care. Here's a picture.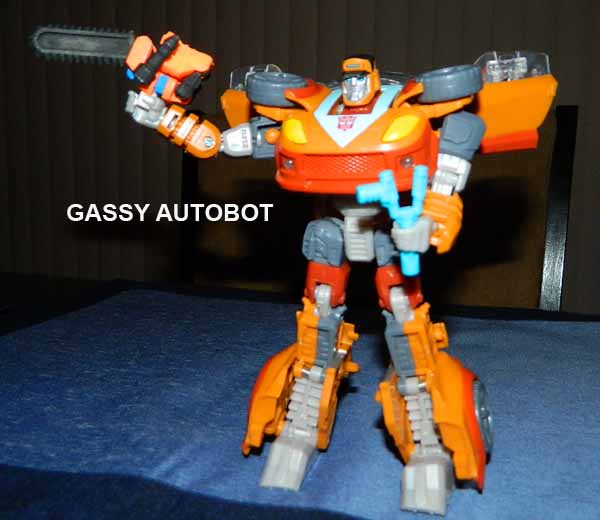 I don't need to say anything about the redeco of Jazz other than...what's in his right hand?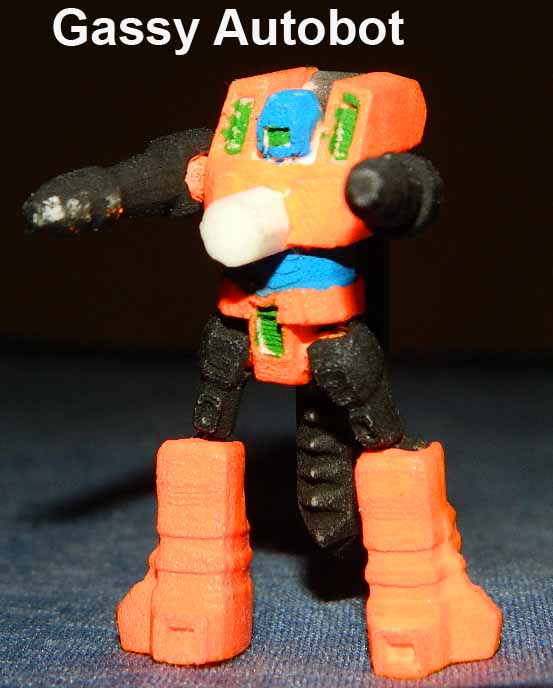 It's the
Little Chainsaw Guy from the Shapeways 3D
printing service! I painted him orange and black, using acrylic but no gloss, hence the paint coming off his right hand there. Sorry.
Hey, I painted him! Hooray!
Okay, talk soon.