I stopped by my favorite toy store QUAKE in Chicago and saw these on his pegboards: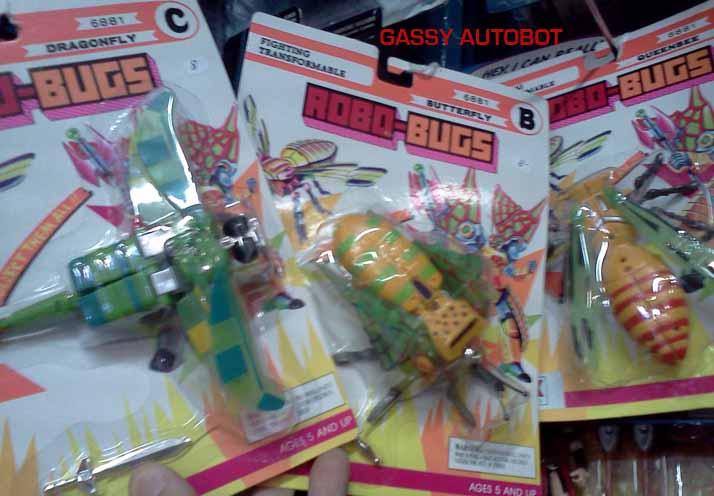 Insecticons? More like Insecti-CRAP.
Three of the four Robo-Bugs (according to the back of the card, at the end of this post) by Tek Toys.
I am finding virtually no information about this toy line. My pal Tim happened to be in the store and said that he had some of these, and these were from the 80's, so I guess these were one of the many Transformers imitators of back in the day. They're also seemingly original designs, as opposed to the
Deluxe Insecticons
that weren't featured in the cartoon most likely because they were not made by Takara/Tomy at the time. Or at least, I don't think these are bootlegs/KO's of the Deluxe Insecticons because THERE'S NO WAY IN HECK I'M BUYING THESE AND HAVING THEM IN MY HOME.
Now, I did find something called, and remember that I don't work in marketing,
ROBO-KATS
. There's some information here claiming that Tek Toys specializes in themed TF KO's but there's no reference to Robo-Bugs. Further search finds
THIS page, listing a few more KO's, including Robo-Dinos
, again by Tek Toys. But no mention of Robo-Bugs (though there are Robo-INVADERS, which are described as bugs). AM I THE FIRST TO SHOWCASE ROBOBUGS? DO I NEED TO BUY THESE? THESE TACKY CHEAP INSECTICON WANNABES?
No. But if you do have more information, including any links, please share and I'll update this post or do a new post. If you worked for Tek Toys, I'd love for you to fly me out to San Francisco and we'll talk for a half hour and then I'll spend the rest of the weekend exploring the town on my own. (What?)